1) Anatomy of the Venous system of lower limb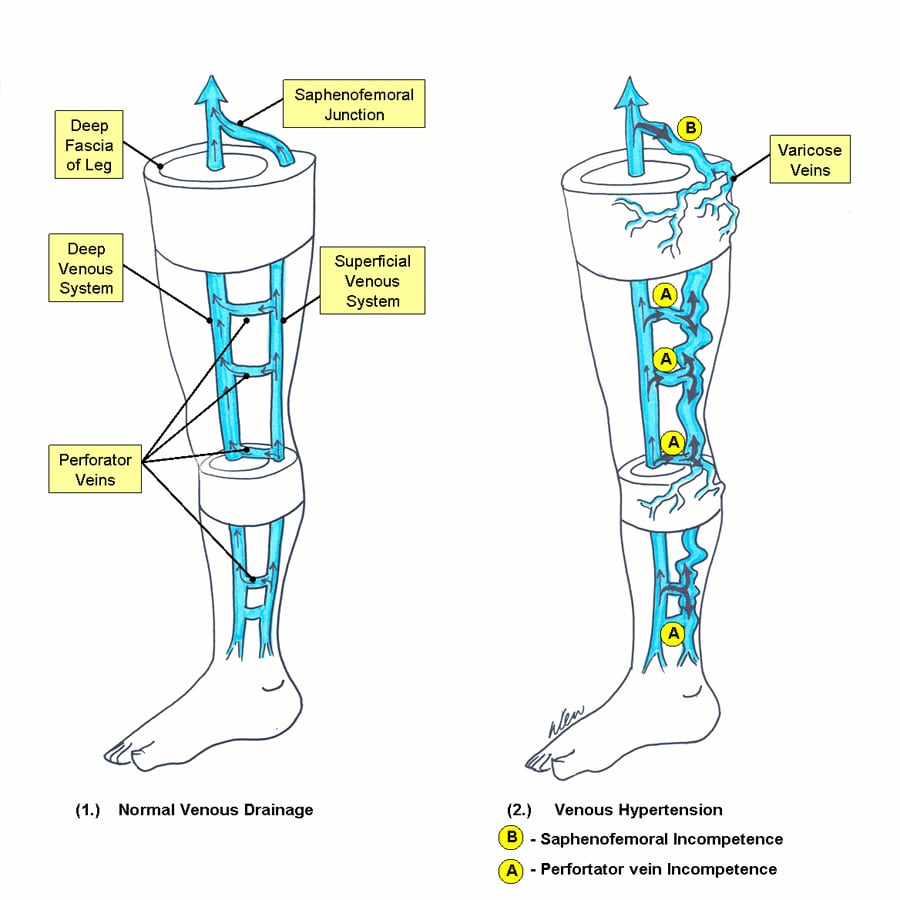 The venous system of the lower limb is divided into the superficial and deep system. The superficial system comprises of
a) Long saphenous veins
b) Short saphenous veins
Long saphenous veins
It begins from the medial end of dorsal venous arch, ascending in front of the medial malleolus, then along the medial aspect of the leg and knee, anteriorly along the thigh, finally pierces the cribiform fascia and joins with the femoral vein at the SF junction (located 4cm lateral and below of the pubic tubercle)
Tributaries :
1) In the leg - anterior and posterior arch veins
2) In the thigh - medial and lateral thigh veins
3) At the SF junction - superficial circumflex iliac, superficial inferior epigastric, and superficial external pudendal
Short saphenos vein
It begins from the lateral end of dorsal venous arch, ascends behind lateral malleolus, then towards the popliteal fossa, where it pierces the popliteal fascia and joins the popliteal vein
Perforators
These are communicating veins, that pierces the deep fascia, ensures unidirectional flow of blood from the superficial to the deep system. Note that all veins of the lower limb are equipped with venous valves to prevent backflow of blood.
The constant perforators for the long saphenous system :
(4 in the leg + 1 in thigh)
a)
Crockett's perforators
: 3 in number, located 5cm, 10cm and 15cm above the tip of medial malleolus
b)
Boyd's perforator
: Single, located below the knee
c)
Dodd's perforator
: Single, located at the level of mid-thigh
There is only one constant perforator for the short saphenous system, which is located 10cm above the lateral malleolus.
The deep system comprises of :
Each artery of the lower limb, namely the anterior, posterior, and lateral tibial artery, is accompanied by 2 veins (known as vena comitantes). Hence, all the 6 veins join just below the popliteal fossa to form the popliteal vein, and becomes the superficial femoral vein as it passes through the hunterian's canal. Finally, as it joins with the deep femoral vein at the upper thigh, it forms the femoral vein.
Thread veins
These are small veins, with diameter of 1-2mm, appears reddish, bluish or purplish, and is usually asymptommatic (only cosmetically disfiguring). However, it might be an indicator of an underlying muscle pump failure, and varicose veins might develops in the future.
Physiology
The calf muscles act as a pump, which ensures blood flow from superficial to deep system, and ascending upwards in the deep system.
However, this is only possible when there're competent venous valves.
Varicose veins
Defined as dilated, tortous, and elongated superficial veins of the lower limbs.
Usually secondary to chronic venous hypertension.

Pathophysiology :

1) More common in females
2) Occupation involving long hours of standing (policeman, conductors) are at risk of developing such conditions, due to chronic pooling of blood within these leg veins -> dilatation of these veins -> valvular incompetence
3) Pregnancy : Risk of developing varicosities increases, due to progresterone mediated venodilatation and the pressuring effect of the enlarging fetus to the inferior vena cava
4) In cases of post-thrombotic veins, where there's valvular damange, it causes reversal of blood flow
5) In cases of intravascular clotting (DVT) or extrinsic compression of the veins (eg, pelvic tumours), causing elevated venous pressure.
6) Lastly, primary varicosities seems to run in family.
Classification
1) Primary varicose veins
Due to unknown etiology
Probably due to inherited/congenital weakness of the vessel wall or even absence of venous valves
2) Secondary causes
Might developed due to valvular destruction (secondary to venous thrombosis)
Pregnancy
Ovarian cyst/Fibroids
Pelvic cancers
Abdominal lymphadenopathy
Iliac vein thrombosis
Ascites
Retroperitoneal fibrosis
Important points in History taking :
1) During early phase of disease, symptoms are usually subjective :
Aching, dragging pain over the calf region
Burning sensation felt over the calf
Later followed by some skin changes (explained later)
2) Occupational history as mentioned above is important
3) Any family history of varicose vein
4) Any previous h/o of deep vein thrombosis
5) Any h/o of pregnancy, or even pelvic tumours
6) Any h/o of complications (ulcers, haemorrhage, ruptures, DVT, superficial thrombophlebitis)
On examination :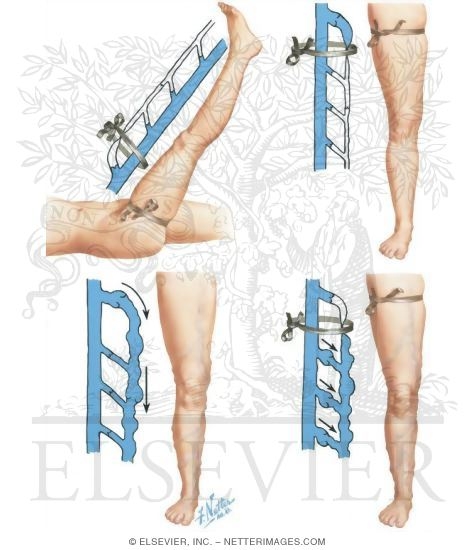 1) Make sure that you're examining the patient while he/she is standing
2) Inspect for any varicosities along the region of long and short saphenous veins
3) Inspect for any saphena varix at the upper end of the long saphenous vein (ask the patient to cough to appreciate any cough impulse and feel for a palpable thrill)
4) Look for complications :
a) Eczema and dermatitis : Due to chronic irritation secondary to RBC breakdown (hemosiderin deposition)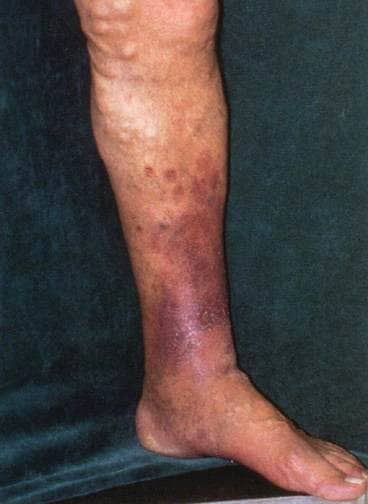 b) Lipodermatosclerosis : Thickening and induration of the pigmented skin of lower leg due to replacement of the subcutaneous fat with fibrous tissue.
c) Varicose ulcers
More common in females
Responsible for about 2/3 cases of leg ulcers
Located above medial malleolus (long saphenous system)
Located above lateral malleolus (short saphenous system)
Slopping edge, with unhealthy granulation tissue seen over the floor
Skin edges surrounded by pigmentation
d) Marjolin's ulcer
A type of squamous cell carcinoma developed due to excessive scarring of tissue, secondary to chronic venous ulcer (in this case)
There's extensive damage to the surrounding lymphatic vessels and vascular channels. Hence, there's no way for this malignant lesion to spread to distant areas.
Besides, it's radio and chemo-resistant
The only way of treatment is to peform wide-excision + extensive skin grafting.
e) Superficial thrombophlebitis
Due to inflammation of the superficial veins (red and tender cord)
Various specific test for varicose veins :